Captive Insurance
What is a Captive Insurance Company?
A captive insurance company is a separate legally entity, established and is a licensed insurance company in its chosen domicile. A captive's main business purpose is to insure the risks of its owners or companies affiliated with its owners. It is an alternative form of risk management that is becoming a more practical and popular means. Captives can be formed by any type of business, such as financial institutions, manufacturers, construction companies, and automobile dealerships.
The captive insurance industry is fast-growing, and yet many business owners are not familiar with the many important benefits of captive insurance. For many insurance in the traditional market may be appropriate, for others, formal self-insurance through the creation of a captive insurance company may be more effective to meet the company's strategic goals.
IMC knows that each captive program is unique and we will work closely with our clients to design the appropriate captive program, tailored to the needs of each client. We strive to provide every captive program with the highest quality service possible from incorporation to management.
IMC is not affiliated with any insurance broker, insurance company or bank. The independence eliminates possible conflicts of interest in providing captive management services to clients.
Structure
The basic captive insurance structure is illustrated to the left.
The captive insurance company must be capitalized. In order for the captive to have an impact on the corporate group, it requires a material amount of capital and premium funding.
Types of Captives
There are several types of Captives. Each type has a different solvency requirement.
Pure Captive: Solvency requirements minimum USD 165.000
Associative captive: Solvency requirements minimum USD 275.000
Rent-a-captive: Solvency requirements minimum USD 550.000
Other captives: Solvency requirements determined by the CBA, between est. USD 165.000 and USD 550.000.
Advantages of a Captive
Properly used, captive insurance companies can bring many advantages which vary considerably depending on the circumstances.
Those that apply in most cases are:
Flexibility
Reduced insurance costs
Tax advantage
Balance sheet protection
Direct access to reinsurance
Gain better coverage for your company
Profit benefits
Increased control insurance program and risk management
Profits form low claims experience retained
Enhanced loss prevention and claims management
Estate planning flexibility
Improved negotiating position insurance position
Create new business
A Captive Insurance Company is a very attractive alternative to ensure your risks, but is it also a good alternative to your company?
Setting up a Captive Insurance Company is most successful when:
Insurance costs increased over the years.
Business with unique or hard-to-place risks.
Risks priced too high by traditional market, while leaving your business underinsured and exposed to liability in other areas.
Sufficient premium volume
Positive loss experience
Does your company require a tailored insurance solution as part of the organizations risk management program and which supports the parent company's overall risk management strategy?
Aruba has proven that it has a fast growing and maturing financial services industry, with established infrastructure, an international regulatory and legal framework, a tough yet supportive regulator, and highly talented insurance managers, bankers, lawyers and accountants. The Aruban jurisdiction shows great promise for current and potential captive owners in the Captive Insurance Industry.
Aruba operates a well-regulated financial system with the belief that appropriate regulation and international cooperation drive forces to commercial success. A strength which differentiates Aruba is its highly skilled, service-oriented and multilingual workforce.
Aruba prides itself in its ability to provide a safe and stable investment environment with an excellent infrastructure that supports the financial services. Aruba is situated in the crystal clear blue waters of the Caribbean just miles of the coast of South America at the crossroads of the Americas and Europe. All the characteristics that have made Aruba a world-renowned vacation destination are in fact components that make it a success as an international business destination.
Aruba legislation defines a captive as follows: ''A Captive Insurance Company conducts a business that insures or reinsured certain risks that exclusively or most exclusively result from the business conducted by its shareholders, affiliated companies or participants in a joint-venture.
Central Bank of Aruba (CBA)
CBA requirements:
The captive shall have a Supervisory Board or comparable body consisting of at least 3 natural persons, required prior approval by the Central Bank of Aruba;
The company must have at least one managing director of proven ability and experience in the insurance business, who is of good standing, charged with the responsibility for the day-to-day management of the company, and who has residence in Aruba;
The captive conducts its financial administration from its office in Aruba;
Annual certified actuarial report;
Annual audited financial statements, submitted within 6 months after end of each financial year.
Fees from IMC Captive Services
Historically, implementation costs for a new captive have been significant, as the establishment of a Captive does involve a number of costs.  These costs are mainly due to investigations as to whether the setting up of a Captive insurance policy is justified and thereafter the initial capitalization.
For insight the following costs have been forecasted:
Incorporation fees: USD 7,500.00 (includes notary expenses, application for one Managing Director and three Supervisory board members)
Initial License Application Fee (non-refundable): USD 575.00
Annual Renewal Fee: USD 1,750.00
Annual Chamber of Commerce: USD 70.00 to USD 713.00 per year, depending on the company's invested capital.
Additional Director License Application: USD 750.00 each
IMC Captive Services
What does IMC mean to you in the field of Captive?
IMC strives to provide every captive program with the highest quality service possible from incorporation to management. IMC is not affiliated with any insurance broker, insurance company or bank. The independence eliminates possible conflicts of interest in providing captive management services to clients. The following are services provided:
Establishing of the captive insurance company.
Assisting with feasibility study and with license application in accordance with the appropriate insurance law.
Managing of the captive insurance company and registered office facilities.
Providing corporate services, maintain minute book and other corporate records.
Attending and preparing all meetings of the companies (Board of directors, shareholders, and committee meetings) and other strategic meetings as deemed appropriate.
Preparing and maintaining accounting records and unaudited financial statements and work with captive's auditor to produce the captive's audited financial statements.
Liaising with service providers: banks, insurance authorities, actuarial analysts, legal and tax advisors, investment managers and insurance consultants.
Tax filings, including annual corporate income tax returns.
Monitoring of ongoing regulatory compliance.
Preparing Captive policy and claims administration.
Clients are advised to consult with a qualified tax and legal professional in their jurisdiction in order to comply with applicable tax and insurance laws. Along with the actuaries and consultants, IMC will examine your business and its existing insurance needs to ascertain gaps in coverage as well as savings that can be achieved by shifting existing coverage to your captive insurance company.
Procedure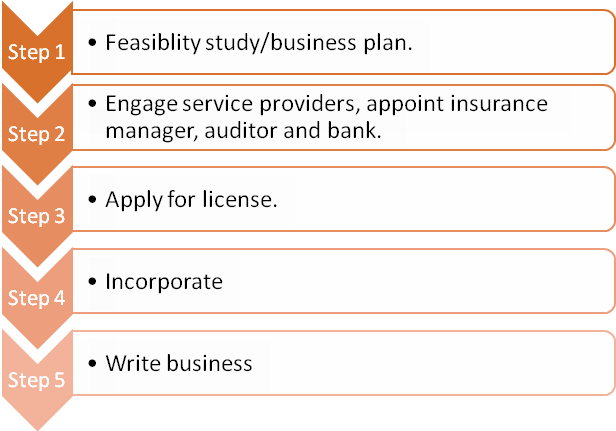 We invite you to make Aruba home for your Captive!
If you are interested in forming a Captive Insurance company in Aruba, or if you have any questions about captive insurance,
please contact us!
IMC Corporate Services
Caya Dr. J.E.M. Arends 18-A
Oranjestad
Aruba, Dutch West Indies
Tel.no.: + 297 582 3301
Fax.no.: + 297 583 6454